Bose On-Ear 
All Music. No Wires. 
Cut the cord and set your music free with the first on-ear wireless headphones from Bose. The sound is powerful and clear, you can switch easily between music and calls with intuitive controls, and play for hours with a long-lasting rechargeable battery. They're 40% lighter than comparable headphones for a comfortable fit. So it's easier than ever for you to unplug and unwind. 
Better Sound, Unplugged. 
Get ready for performance that raises the bar for Bluetooth headphones. Detailed and balanced sound you can enjoy everywhere you go. Bose TriPort technology works with Active EQ to deliver music as dynamic as our best wired headphones. You'll hear the deepest lows to the clearest highs, without a wire in sight. 
Power To Spare! 
With up to 15 hours of play time, you can listen to your favorite music, watch a movie, check out videos and still have plenty of power left. Get a full charge in just 1.5 hours by plugging the included USB cable into any mobile device with a powered port or wall charger. If the battery runs down, a quick 15-minute charge gives you another 2 hours. 
Designed For You In Mind. 
The adjustable headband rests gently on your head, and earcups rotate for a personalized fit. Soft cushions cradle your ears, and all materials are lightweight and built to last. The earcups fold up to store in the compact carrying case. And there's an extra cable, so you can plug in and listen if the battery runs out. 
Fingertip Controls 
Get a call while you're listening to music or watching a video? Just touch a button on the right earcup and you're instantly connected. Touch again to play, pause, skip and make calls. Roam up to 30 feet while connected to your smartphone and tablet at the same time. Voice prompts tell you battery life, connection status and who's calling. So you can leave your smartphone in your pocket; or all the way across the room. 
Hear and Be Heard! 
Phone conversations are clear with on-ear headphones; even if you're on a noisy or windy city street. Dual microphones reduce background noise to make sure your voice is heard. And you'll hear your caller's voice clearly, because Bose technologies automatically adjust your headphones' volume as the noise around you changes. 
More Features 
Best-in-class performance for wireless headphones

 

Lightweight on-ear fit you can wear comfortably all day

 

Easy to use Bluetooth controls on headphones for music and calls

 

Up to 15 hours of play time with rechargeable lithium-ion battery

 

Helpful voice prompts for setup and everyday use

 
Bose Factory-Renewed Products  
Factory Renewed products have previously been purchased from one of our dealers or from our Direct Sales division. They have then been returned to us under our satisfaction guarantee. Usually Factory Renewed products don't look any different than new products. A product may have a slight cosmetic blemish, but there is no audible performance imperfection. Once they have been fully tested, inspected, and remanufactured as necessary, they are issued at a discount with a fully certified new warranty and new satisfaction guarantee. Most products have previously been on sale at higher prices in electronic retailers or through our direct marketing channel.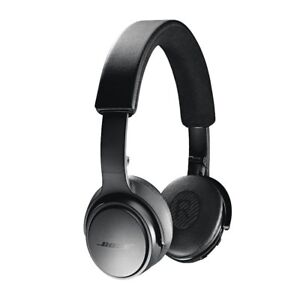 Bose On-Ear Wireless Headphones – Factory Renewed